Now we have finished FEM/ISO-forks (class 2A to 4A) and blanks in stock.
See our stock program via "read more".
Tough requirements regarding both strength and shape
A number of our customers want their lifting forks to be extremely strong, yet at the same time as thin as possible.
Our customers know what they want – and they know we can deliver the very quality they are looking for.
Booforge Steel offers customised products that can withstand the very toughest environments. We know how every single product must be fashioned in order to comply with the customer's wishes, and at what temperature the product will display the optimum properties. We also stand for an extraordinary flexibility.
Over the years Booforge Steel has developed unique materials expertise and quality awareness. The company is currently a leading player in its product areas: lifting forks and open die forging.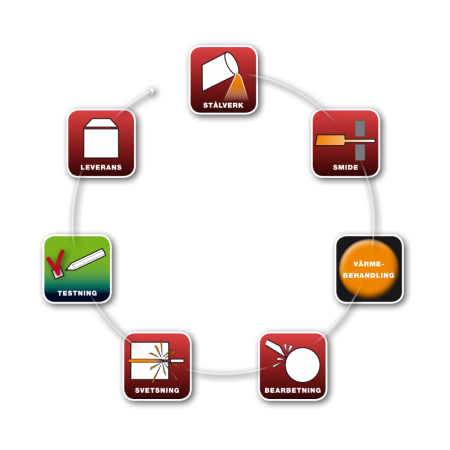 Our process
From steel to finish with Booforge Steel
Our collaboration starts with a requirements analysis in which we answer questions like:
Where will the part be used?
Is the environment corrosive?
What kind of impact will the part be exposed to?
Which material and quality standards should it meet?
When the analysis is complete, we take action. What we have agreed on, we will deliver. On time. With the right quality. Safe and secure.
Cascade Corp. turns 80 years
Today we celebrated that our owner Cascade Corp. turns 80 years as a company! We celebrated of course in All American Style with Texas Barbecue food!
We are happy and proud to belong to Cascade and look forward to celebrating many more birthdays together!